Fantom Pivot
---
Description

The Fantom Pivot door-hold, features the patented dimple and hold open design but no stopping lip. It's application is for use with pivot doors to allow the door to swing in both directions but still locate the door and hold it in the closed location. In double doors, this can be used on the active door to hold it shut and allow it to swing both directions, and also the inactive door instead of face fixed drop bolts. Fantom Pivot can be used alongside Fantom Doorstop to offer an all round pivot door solution, which will hold the door in the closed position but also as a doorstop when the door is being used.

Note- All prices are show in AUD and INC GST for Australian customers.

BUY MORE, SAVE MORE
3+ doorstops and receive 5% OFF
5+ doorstops and receive 10% OFF
10+ doorstops and receive 15% OFF
No code required. Discount applied automatically at checkout
FAQs

Can you install Fantom into carpet?

In short pile carpet – absolutely. It is suited to short pile carpet as you can push the sleeve down into the sub-floor to get good bearing without going to deep into the carpet pile. 

Long/deep pile carpet is harder and not advised due to the gap created between the door and the sleeve. (Because the door needs to flow over the carpet and the floor sleeve has to push deep into the pile. More than likely this will create a gap of more than 15mm max recommended.) We have a carpet punch available here.

IMPORTANT INSTALLATION TIP – When installing into carpet, you need to punch or cut away the area of carpet you are about to drill to remove the carpet pile. If you don't, the carpet will wrap around your drill bit and will cause a run in your flooring. If you don't have a carpet punch, you can use a Stanley knife or small chisel. 

How is the door released once it is engaged?

The Striker plate is designed with an entry/exit ramp on one side and also a stopping lip on the other side. In the middle there is a hold open area for when the door is resting in the hold open position. To release the pin and close the door simply pull on the door as you normally would and the pin will travel out of the dimple and slide off the plate until the door is free. The pin will then just fall back down into the sleeve. Simple and easy.

How big is the hole you need to drill in the floor?

A standard 14mm hole in the floor 50mm deep.

How strong is the magnet? Will it keep my door open?

It is an N33 Neodymium rare earth magnet. It pulls the pin out of the ground in 2/25ths of a sec. Once it is in the hold open position, it will hold your door there against the strongest of drafts. It does this by working in conjunction with our patented 'dimple and lip combination'.
Installation instructions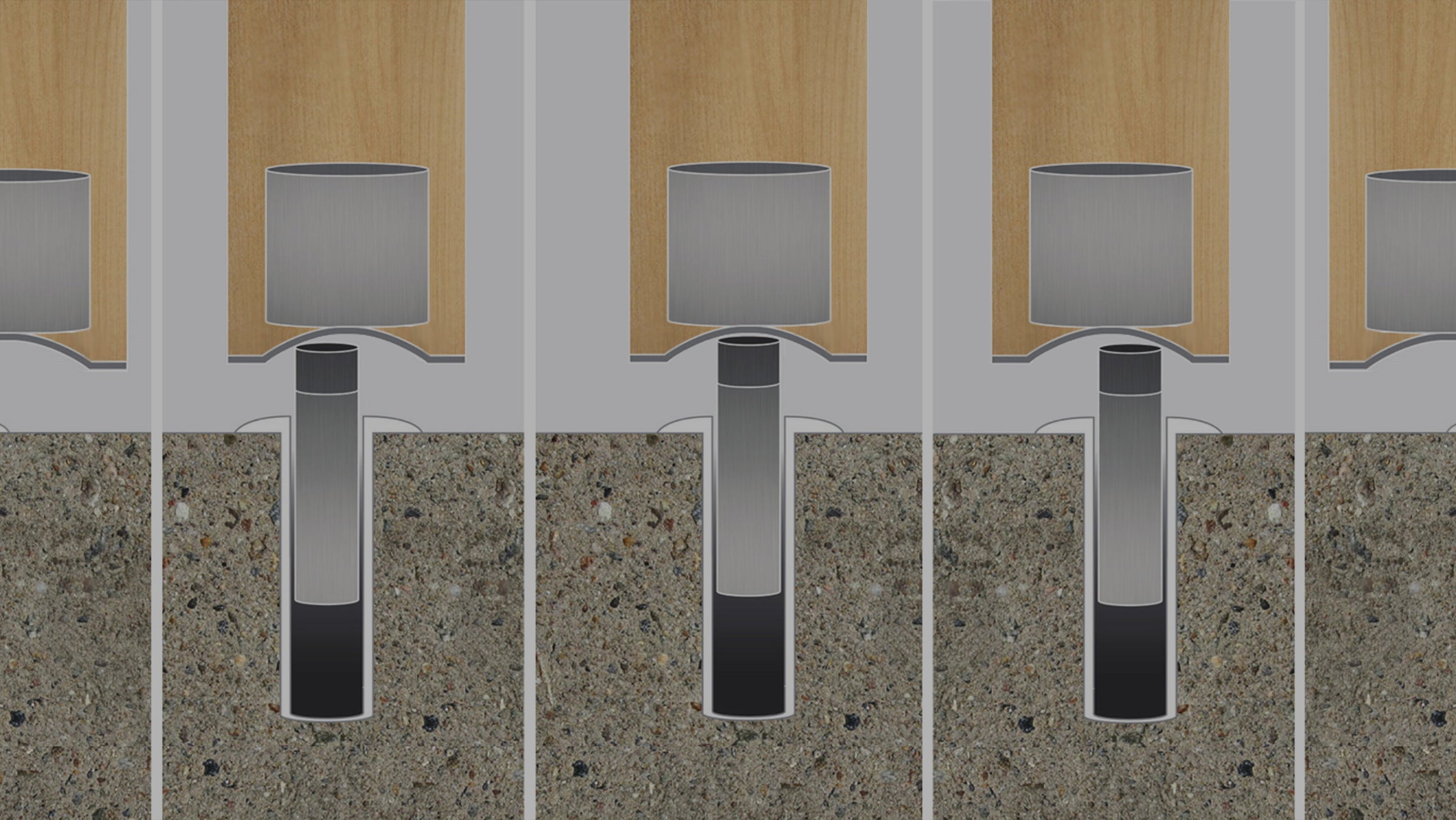 FANTOM HARDWARE
Pivot
In double doors, this can be used on the active door to hold it shut and allow it to swing both directions, and also the inactive door instead of face fixed drop bolts. Fantom Pivot can be used alongside Fantom Doorstop to offer an all round pivot door solution which will hold the door in the closed position but also as a doorstop when the door is being used.